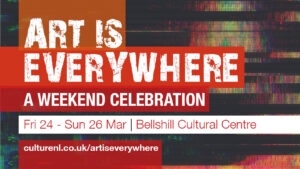 Art is Everywhere North Lanarkshire
A Weekend Celebration
Friday 24 – Sunday 26 March
Bellshill Cultural Centre
Free events & activities
Join us for a weekend of free activities to celebrate Art Is Everywhere, a project focused on connecting with artists, living and working in North Lanarkshire.
The weekend of celebration is open to everyone, including artists, families, and anyone with an interest in the arts.
We want to fill the area with amazing art, that is accessible and everywhere.
Find out more about the weekend celebration.
#ArtIsEverywhereNL
@measurehumanity
Contacting us
When you give us a call, please leave your name, contact telephone number and note of the class on our voicemail and one of the team will give you a call back.