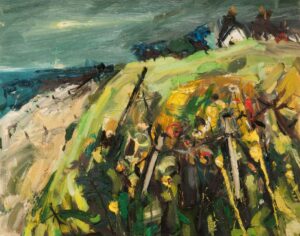 Inspiration
An exhibition of artworks from North Lanarkshire Council's collection
Thursday 2 February – Monday 1 May 2023
FREE ENTRY
Inspiration can be found in many places and the ways in which artists approach their art, from subject matter to technique, is influenced by their own source(s) of inspiration. The art in this exhibition explores some of the inspirations behind the artists' work, displaying a spectrum of methods and media within the following broad categories: People and Places; Daily Life; Stories and Events; Scottish Land and Seascapes and Sense and Sensation….how will you be inspired?
This exhibition comprises a diverse range of paintings, prints, photographs, and sculpture by variety of artists, including some with North Lanarkshire connections, such as Dan Ferguson, and Una Shanks. Many of the artists have a UK or Scotland wide reputation, including George Wylie, Jessie King, and Hamish MacDonald. The collection also includes artists with an international reputation, such as Peter Howson and Oscar Marzaroli, just a taste of the full catalogue in the NL collection.
Weekend Gallery Tours
Saturday 18 March & Saturday 15 April 2023, 1pm
FREE
Drop-in for a talk and sketch tour of our 'Inspiration' exhibition.
Led by museum staff, this is an informal guided tour of our gallery. Just grab a clip board and pencil and sketch as you go!
Tours last approximately 30 minutes.
All ages welcome, no experience required.
Art for Wellbeing School Workshops
FREE Primary school / ASN workshops available.
Workshops include hands on activities and a focus on mindfulness in art.
For more information, contact museums@northlan.gov.uk.
Take a virtual tour of the Waiting for the Magic – The Photography of Oscar Marzaroli exhibition.